Guide to Straighten A Synthetic Wig
2020-07-02
When you first started wearing wigs, have you experienced scared feeling to even brush the wigs or use any hairspray because you want to keep them pristine and pretty? However, after a time, are feeling tired of the changeless styling, and are your wigs getting tangled or tattered? Even though you don't want to throw them away because it's a waste of money.
In this case, synthetic wig is an optimal choice for them. When synthetic wig is processed, the fibers are shaped with heat into a specific style. Synthetic wigs will always return to this style once they are washed. You can do any sort of styling, teasing, curling or braiding. Before that, the very first step is to straighten your synthetic hair.
Tips before straightening
Most wigs are heat resistant but some cheap polyester works are not. If you are not sure about wig, you should ask the wig company or do a heat test first. If you decide to do a heat test, it's always good to use a small section of the wig. A little piece of hair from the root area is fine.
Too much heat will frizz out or melt the fibers. It's recommend that the straightener is set on 200 degrees Celsius which is way too hard for synthetic hair. Most wigs can be straightened with the temperature about 120 degrees Celsius without damaging the fibers.
Steps to straighten your synthetic wigs
1.Wash the wig to take out every glitter or stain on the hair and also the smell of smoke that the wig absorbs. A mixture of conditioner and fabric softener works miracles the tangle wigs.
2. Prepare a wig head or a wig stand and place your wig over it and secure it with pins, so it doesn't slide off during the process.
3. Brush the wig to detangle all the knots. Always use a wide toothed comb or fingers. Regular brushes tend to fray the ends and damage the fibers, and the only way to fix that is by cutting. Work in small hair sections, and brushing the ends first and work your way up to the middle parts and the roots. So it takes less hair off your wig. And don't brush the wig too aggressively.
4. There are different methods to straighten synthetic wigs with heat. You can use the steamer, flat iron or hot water. After deciding to choose which method, get down to the straightening process and you'll get silky smooth new wig again.
Methods to straighten your synthetic wigs
Steamer
There are about two main reasons why we steam. First, it can help remove frizz and damage from your synthetic fibers or your HD synthetic fibers with really rough ends. You can purchase it from Amazon and some people even use clothe steamer.
Set the temperature at 120 degree Celsius, and use the steamer directly onto the fibers without any distance. Go back and forth with the steamer and brush. The bottom parts may still look frizzy, hit the end with some steams. The great thing about steamers is that they style your wig fibers really gently. It's really good for cheaper wigs.
Before you claim victory over this wig, go through the entire thing. Maybe turn on that steamer again and go over it last time just to catch any little kinks and knots that you may have forgotten. Remember to protect your face from the steamer.
Hair straightener/flat iron
The most used method is hair straightener/flat iron. Start at the back of the wig. This process is not much different than straightening your real hair. You should wear heat-resistant gloves during the step, otherwise you can burn your skin because the fibers get really hot. Always set a small section and comb it first before you are straightening it.
If you want to remove the curls completely, you should hold the fibers really tight while you're heating them up. They stay in their straight shape once the wefts are cooled off completely.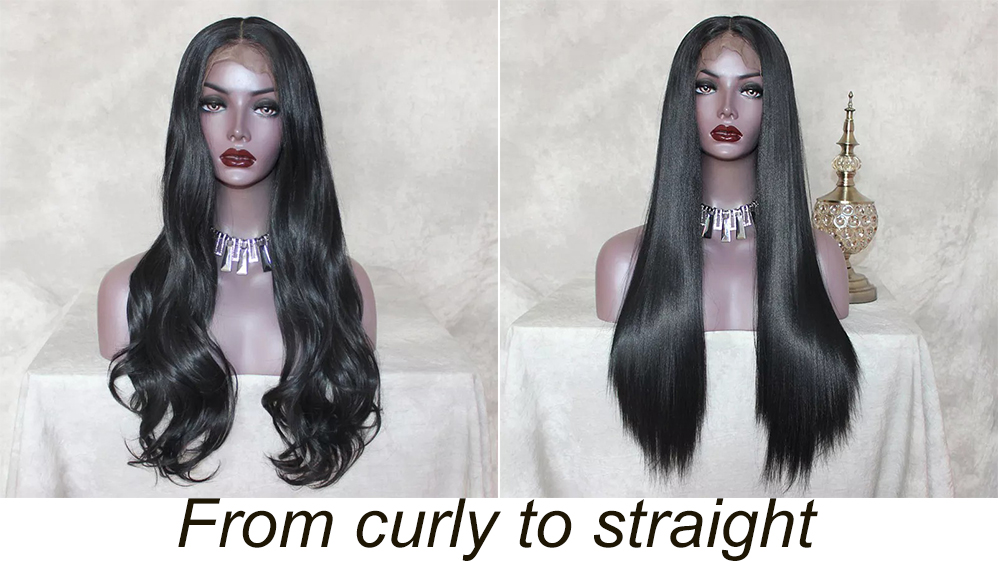 Hot water
If you don't own any styling tools, this is the perfect choice for you. It's super easy and fast. Heat up some water in your water boiler to 160°C to 180°C first. Once your water is all heated up, it's time to remove the curls.
Dunk the lower parts of the wig first, so you don't have to heat up that much water. Dump the water all over the wig covering as much as possible. The wig should hang completely straight. Just let it dry overnight and the next day you can brush the whole wig again. Brushing a wet wig will damage the fibers.
Hairdryer
Section the wig hair into twp parts, make the upper part into a loose bun and secure the bun with a hair clip. Spray the bottom layer with water to keep the fibers from overheating. Gather a small section of hair from the lower part and smooth the hair down with a wide toothed comb to ensure it's completely tangle-free.
Set the hairdryer to warm heat temperature. Be aware that the temperature will be not be too high, otherwise the fibers may melt. Slowly move the comb and hairdryer downwards at the same time, which is not easy for most people. You may need a lot of practice to do this proficiently. Once you finished a small section, repeat the process and until all the wig hair become straight.
All the methods can help you straighten your synthetic wig. You may be mindblown when you see the final look. Now you have a totally new style for your wig. And that will be an awesome transformation! The wig is just as beautiful as the day you got it. You don't have to cut off or throw away your old or frizzy wigs anymore. Better late than never. Try these ways now!