Halloween Hair Color Ideas
2020-07-16
Halloween is an open invitation to cosplay as anyone or any character. The most exciting thing about Halloween holiday is to dress up, attend the Halloween costume party or go to haunted attractions. Are you thinking of impersonating as your favorite movie, TV show character or want to create your own character? You may have prepared the coolest costume and the most spooky makeup, but it's not perfect if you do not have a wonderful Halloween wig to top it off. Never underestimate the power of a little wig. We've rounded up some wig styles that may provide you some inspirations for this year's Halloween look.
Some people do not want to purchase a wig as they worry about the inauthentic look, so they prefer to temporarily or permanently dye the hair. However, it is no doubt that this will damage the hair to a certain degree. And it's so much trouble to dye your hair or wash out the temporary dye form your hair. Or if the hair color is too exaggerate and inappropriate for daily life, then the best choice for you is to get a wig. A wig saves from all these troubles and you've got tons of color options in every Halloween store you visit. A simple wig can change your entire Halloween look.
Black straight wig
Black is always regarded as the most mysterious yet attractive hair color. If you thinking of dressing up as ghost, zombies, some creepy or mysterious characters, a black straight wig shall be the best option. For those who love going with the classics on Halloween, a black straight wig with white powder and a lot of backcombing will create a super legit look. Also you can match this hairstyle with pale white makeup, which adds to the scary factor of your ensemble. If you haven't made up your mind for your Halloween role, then going for a long black straight wig is a safer selection. You can either cut, curl or braid it to any style you like. You can even cut a wig bang yourself.
Pink wavy wig
Pink hairstyles have had quite a moment this year, haven't they? Usually people do not have chance to wear pink wigs in daily life as colorful hair color may not be allowed in the office room. But now, the Halloween is your best opportunity to rock this sweet hair color. Many girls have a crush on mythological or some fairy tale characters like mermaids. Many female leading those characters usually have a full head of pastel color including pink. The long pink curls add extra feminine flair and mysteriousness. Sometimes bright hair color is needed to match your Halloween costume and create the perfect ensemble. If a pink wig is what you need now, add it into your shopping list!
Red
If you have special preference to girl superheroes, then a redhead image may just pop into your mind. People with fiery red hair are usually considered as being passionate, powerful and maybe hot-tempered. No other hair color can accurately depict the image of female heroes than red color. So if your Halloween costume is to imitate such move characters, then a red wig is a necessity. Red hair color is also a secret weapon to make you stand out in the crowd. So go with the red hair if your purpose is to be the center of the attention. Your friends can easily spot you in the streets packed with people even from far away.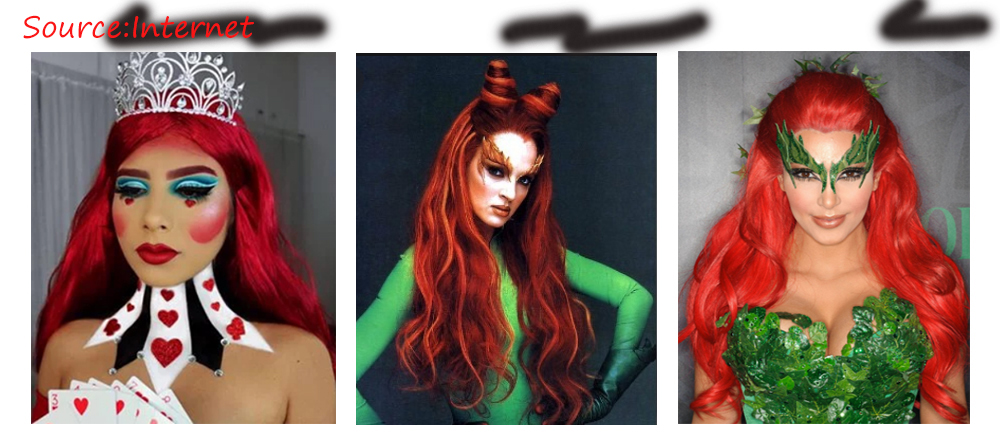 Green
Maybe you are a big fan of anime or cartoon movies and you want to dress up as your favorite anime characters. Most anime or cartoon movie characters usually have bright color hair to distinguish the roles and reflect their personalities. Green is undoubtedly one of those hair colors used to develop characters. For this wavy green wig, the color is phenomenal and the curls are stunning. A green hair pairs with a green costume make you conspicuous instantly. Working with fairly good makeup will certainly bring your costume look to next level this year. Certain necessary accessories or braiding will make you overall look even better.
Orange
For many people, Halloween is more like a great opportunity to try a new look that they do not have courage to do that in daily life. So they usually will choose some exaggerated or even crazy styles. To a certain extent, it's kind of a way to release pressure. The bold hair colors definitely include orange color. For some characters , the bold hair plays a major part. Put orange into your consideration list. It's time to show off your orange hair this Halloween with a costume that highlights it like never before. Make your mane the center of attention. The orange short wig will complete your look in an unexpected manner.
There are no rules when it comes to picking out the perfect women's Halloween wig to complete your costume. Whether you want go short straight hair with blunt cut? Or you prefer staying on long cascading mane? The options are virtually endless! There are tons of lengths, styles, and colors of Halloween wigs for you to choose from. You'll definitely be able to find the right one and create your own iconic Halloween moment! What are you being this Halloween? Can't wait to see your transformation!