How much do you know about Wigs Scams
2020-06-29
$19.9 for a 100% human hair wig?
You're getting played!!!
You may have the same experience that whenever you go to check your social media feed, some ads just pop up wanting you to purchase stuff. Some of the ads are amazing videos about people putting on lace wigs. It always looks gorgeous and charges like $20 or even less for this wig. Then you're intrigued to check the website and ends up purchasing it immediately, but it eventually turned to be a total scam.
In this article, we'll take a deep look into wigs scams in the following sections.
--What are wigs scams?
--How do fake wig websites sell products?
--How to identify fake wig websites?
--What are the basic features of a legitimate wig website?
--How to deal with wigs scams?
--Say No to Wigs Scams
What are wigs scams?
These signs show that you may fall into a trap:
1. Poor quality. Before you open the package, you may be excited to wear it outside or get compliments from your friends, but you're totally wrong. It even starts shedding when you just get the wig out of the package and the part looks really fake. It gets tangled easily and the color appears shiny and synthetic.
2. Wrong wig. When you receive the hair, it's nothing like the wig you see on the video or ads. They say it's 100% human hair, but you got a machine weave synthetic wig. Or maybe you are hoping to get a lace front wig, but what you get is just a wig without lace front. Or perhaps you get the wrong color, wrong texture or wrong hair length.
3. Late shipping. It tends to take a month and even longer for you to receive the wig. Or when you try to track your order number, it shows the package hasn't been sent out yet. The shipping period is so long that you may forget you've actually bought such a wig.
4. No shipping at all. The worst situation is that you've place an order and the seller will never send you the wig package and you will never get the refund.
Well, if you've ever encountered this, that means you are scammed by fake wig websites. When you realize you're the victim of fake wig advertising, it's time for you to know more about wigs scams to avoid further financial losses or ruining your good mood.
How do fake wig websites sell products?
1. Fake videos. The wig scammers will spend plenty of time on social media like YouTube to look for web celebrities who share wig videos. And they just steal and edit these videos to put on their brand website to trick customers. In fact, their own wig product is nothing like the video. Their brands have NEVER been mentioned in those fancy videos, which is definitely abnormal.
2. Fake photos. People are inclined to be attracted by fantastic photos. Those photos will stimulate your imagination and buying inclination. Many of these photos are stolen from legitimate wig manufacturers or web celebrities. Some hair shown in photos are EVEN the original hair of those celebrities!
3. Cheap price and unrealistic discounts. For bogus wig websites, they always charge like $20 for a wig and maybe half price or even 80% off for the second wig. Favorable price and discount would always be a strong temptation for consumers. It's rather hard for you not to buy it out of impulse and you'll never think of doing some research before placing order. But you have to bear in mind that you'll never be able to purchase high quality wigs at such a cheap price.
4. Design plagiarism. They have even gone as far as to take money out of people's pocket by trying to replicate wigs that YouTubers create and sell to their customers. For these fake wig websites, there is no integrity at all. Their ultimate purpose is to rip off customers' pocket.
How to identify fake wig websites?
Nowadays there are so many online wig stores or websites. Some of them are fake websites whose only purpose is to "rob" your money by fraud products and false advertising. It's imperative to know how to identify those fake wig websites.
1. No wig brand name, logo or links. If you watch a video on the fake wig website, you'll notice that the video maker has never said a word about the wig website or wig brand. And related logo or links cannot be found anywhere either. In this case, there is a strong possibility that the video is stolen and used by the website for fake advertising. The video maker may not even know about this. And some videos come with links. You click those links and you'll see a series of videos not just about wigs but also makeup, fashion clothes, bags or something else.
2. Fake models. If you find there are lots of pretty models displaying the wig product, then you need to be cautious. Normally, it will be extremely costly and unrealistic for a wig website to hire so many models of different countries or skin colors to take photos for advertising, which means these photos are not real or unrelated to their wig at all. Therefore, it's not rare that you may see the same model and photo in different fake wig websites.
3. Unreal or blurred photos. If you're visiting a wig website and you find all the wigs in the pictures look like human hair. Don't fall for it! That's because the hair in these stolen photos are real human hair of the model, it's not their wigs for sale.
On the contrary, if you find the photos on the wig website are blurred and fuzzy, or there are no photos to demonstrate the whole wig, just shut down the web pages. Those photos are probably screenshots.
4. Super cheap price and discounts. Usually, when you enter into a fake wig website, an interface will pop up immediately, saying "special 60% off today, 50% off for second piece" or some message like this. You have to keep in mind that you get what you pay for. If there is something that you think it's too good to be true, then it is. There is no such price as $20 or even below the price for a wig, especially for human hair wigs. All the discounts are just their means to stimulate customer's consumption desires.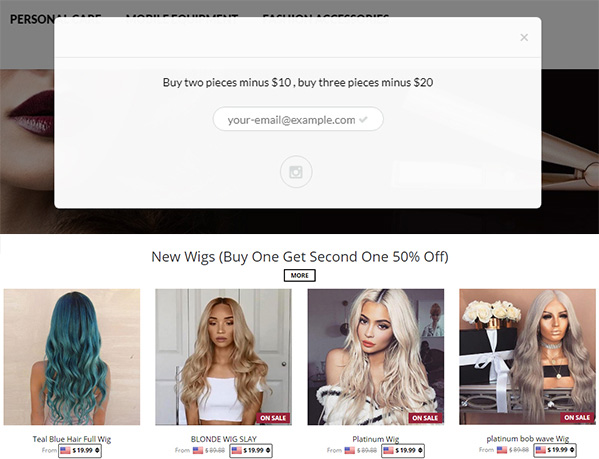 5. No costumer comments or excessive comments. If the wig website you're browsing is a fake one, you'll notice that there are no customer comments for all the wigs. Even if you can find user comments, you may find that some of the comments are posted at the same time or within a very short period with similar words. Normally these are just positive comments without describing the real wigs.
6. Inconsistent domain name: Domains of fake wig websites are usually registered by scammers with a false name and address. Once the website is reported by victims to the Public Domain Registry, the domain will be taken down and they need to register a new one. So, it's totally possible for you to find two domain names on the same web page.
7. Absent or inauthentic contact information: There is no contact address, service email or phone number. Occasionally you may find an address, but it's unreachable and non-existent. Also, the emails and phones cannot be reached either.
8. Link failure to social medias or unrelated updates. If you click the social media links on the fake wig website, you'll get a NOT FOUND ERROR page. Or you'll find contents that is completely irrelevant to wigs. Besides, the social media timeline is quite new, because such a fake one can never survive for a long time.
What are the basic features of a legitimate wig website?
1. Domain name. To make sure the domain name of the wig website is consistent throughout the whole website page. Fake wig websites have to change domain name frequently because of illegal domain name registration.
2. Brand logo. Wig scammers are often forced to alter the logo along with the change of the domain name. In normal situation, the content of the logo is same as the domain name to make it easier for people to remember and expand influence.

3. Website & Social media contents. Remember to check if the name of all the social medias related to the wig website are identical or not. Attention should also be paid to its contents. A legal wig website will never post any information unrelated to wigs. For wig websites with blogs, the content will be updated frequently too.
4. Related videos. To promote wig products in a vivid and effective way, wig websites will often update videos to attract customers. Do bear in mind that a formal wig website will always post original videos in series or videos with wig brand or logo. You can also find website or wig links in the description box.
How to deal with wigs scams?
No one wants to get a fake wig. Now there are so many wig websites and brands out there, it's confusing and difficult to differentiate which one is trustworthy or not. Keep in mind the following tips to avert wigs scams dilemma.
1. Browse the website thoroughly. When you see any wig ads on Facebook or Instagram, hold your horse before you click to buy. Search for the official website and check out other wig products, customer reviews, related photos and videos, return policy, as well as FAQ. Use the tips mentioned above to identify whether it's fake website or not. If you find the company is non-existent or you still have doubts, just ignore the ads. Obviously, that is probably a trick.
2. Search for YouTube videos about wigs. A lot of YouTubers have posted videos about wigs scams or false advertising, and they may mention some fake wig websites. That would be useful information for you to stay away from wigs scams. Actually, some comments below these videos are helpful too. Many people will share their wigs scams stories there.
Also, you can search the wig brand on YouTube to see whether there are any web celebrities have made videos about this wig brand and what are their comments.
3. Get refund. If you have already suffered from wigs scams, don't indulge in regret and anger. Just seize your time to do what you can to get your money back. Take pictures of what you received and contact the customer service of the website to ask for a refund. If this doesn't work out, contact the PayPal Resolution Centre. Tell them your story and send them all the photos of fake wigs or screenshots of negotiation dialogues between you and the seller. The PayPal will help you get the full refund.
4. Make wig scam video. Post these pictures and your comments on the website to avoid more people falling into the scam. If you have enough time and energy, you can make a video about wigs scams to prevent more people from being scammed.
5. Report false advertising. Go to www.ftc.gov and report the false advertisement. In many cases, the states have modeled their statutes after the Federal Trade Commission Act. These laws allow consumer to sue advertisers for monetary damages they've suffered as a result of being victims of the advertisement. Some state laws even provide for criminal penalties if fraud is involved.
Say No to Wigs Scams
It's not fair for fake wig websites to just blatantly lie to people like that. Anyone that's into wigs knows you don't get full lace human hair wigs for $20 but some people don't know about lace fronts. So,they see the video of the $20 wig in the ad and think that's amazing, without realizing that it's impossible to find a wig so cheap.
This scam behavior violates the rights and interests of consumers. False advertisement is against the law and something should be done about those fake websites that lie and scam consumers out of their money. Advertisement of any products should be exactly what the seller is selling. Money don't fall from the sky and we don't pick them up freely on our way to work. It's cruel for them to deceive people like that.
All the media networks that allow these fake companies to use their site to rob consumers while they get rich on unsuspecting consumers who spend their hard-earned money on lies and false advertisement should take a stand and remove these fake ads from their sites. Too many people have lost money believing they will get what the seller is selling.
We all know how vulnerable we could be when being as a consumer. Customers and companies who run their business honestly should band together to stop these wigs scams.