Is Wearing Glasses With Wigs A Problem
2020-07-20
How to wear glasses with you wig? It sounds so simple, but if you do wear them, it can sometimes be tricky and even irritating! Either the arms of your glasses get stretched or you get headaches because they are pressed too tightly to your head. For short-sighted wig wearers and wig lovers who love wearing sunglasses, they may encounter some issues. Figuring out how to wear your wig and glasses comfortably seems necessary. All you need is a little bit of knowledge and the right hairpiece.
Ways to wear glasses with wigs
There are two ways to have your glasses on with wigs. The first one is leave your glasses on and just put the wig right over, ignoring the fact that you are wearing the glasses. So you bring the wig up to your hairline. Make sure the taps are even and your glasses are on. The other way is put the wig on first and make sure the wig is at your hairline and the tabs are even. Then simply take your glasses and graze them right against your temples. And then move your hair of your wig around.
You can wear your glasses underneath the ear tabs or over the ear taps. That's really up to you. It depends on what you are more comfortable with and also depends on how your glasses fit you. If you have a really wide face, your glasses might barely be clinging on to your face. If that's the case, you don't want to wear glasses over your wig because tuck them under would be more subtle about it. But whatever the situation, that's up to you to figure out. Everyone is a bit different. There is no one right way or wrong way to wear glasses with wigs.
Ear tap issue
Some wigs do not accept the sunglasses or reading glasses easily. The ear taps just happen to a little larger and sit lower. So when you try to put your sunglasses on, you'll meet quite a challenge. Once you get them on, they sit under the ear taps which puts quite a little pressure at the back of your ear. If you are going to wear your sunglasses or eyeglasses for a short period time, this is not a big deal.
But if you are going to wear them all day, you'll eventually get an earache or headache because of the pressure. So the option for you is wear them above the ear taps, and pull the hair over so it doesn't look strange. But the thing you risk when you wear your eyeglasses or sunglasses over the ear taps is you can distort your glasses.
Another option that some people suggest in use is to raise the ear taps, so that you can more easily fit your glasses on. This option is suitable for wigs with large rather stiff ear tabs. They do not accommodate glasses well. However, when you adjust the ear taps upward, it certainly helps. But in this case, your wig does not lay perfectly straight or the way it should. You have to decide if this is something you can live with and work with.
Not every wig has giant obstructing ear taps. There are actually wigs on the market if you wear eyeglasses 24/7 that might be a better choice for you. It does have ear taps but the ear tabs are smaller. They just slip on and they are very comfortable to wear. Those adjustable small ear taps really work well with eyeglasses. Some ear taps are quite sizable, but they are slender and felt very soft. They move around quite easily and can accommodate eyeglasses quite well.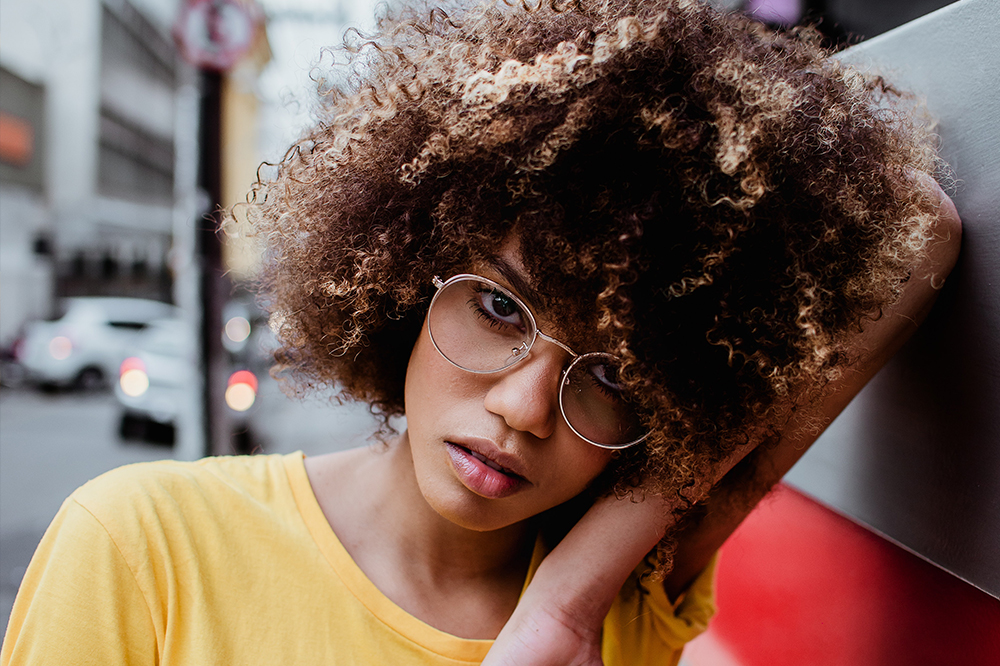 What else you can do?
If you have an expensive pair of eyeglasses, you certainly do not want them to bend or become misshapen. So you are strongly suggested to take your eyeglasses while you are wearing your wig to the optician. Let the optician help you make adjustments to the eyeglasses so that they will fit properly against your head when you're wearing your wig.
There are other options. If you Google search bonded hair system, you'll see that there are hair pieces and wigs available that can actually be bonded to your head. This allow much easier use of eyeglasses and sunglasses. But they are extremely expensive hair systems.
You can ask your retailer before you purchase to find out if the ear tap is indeed smaller. You can also ask your preferred wig retailer about wigs featuring an open ear tab. The open ear tap is smaller and very comfortable when worn with eyeglasses. If your hair is just thinning on top. You have the option to use a topper. This is usually a hairpiece that clips on the top of your head. Many wig brands offer toppers and it alleviates the problem of ear taps. Headband wigs or 3/4 or half wigs are other options for people who wear eyeglasses as there are no ear taps.
How to wear glasses with a wig and look good?
Some people are constantly worried about getting weird while wearing a wig and glasses at the the same time. But the truth is it won't make you look weird. As long as you can choose a suitable wig for your face line. Usually you can choose short hair wig when wearing glasses if your eye glasses is framed. This match way can show an exaggerated style that always goes with modern. And if eye glasses is rimless, then you can wear a long curly hair wig, it can represent white collar style.
It depends on what type of wig you wear. If you wear normal wig in usual life, you can choose some normal and common eyeglasses to enhance your look as well as provide your vision aids. But if you wear wig that for a special party or enjoy some concert etc, you need to wear some grandiloquent eyeglasses such as colored cat eye glasses or some novelty eyeglasses according to your dresses.
It will not look weird when you wear both the glasses and a wig. If you want to look so obvious, you could do the makeup to beautify the face and make the whole look balancing and harmonious. You could use the eye shadow to light the eyes which will let the eyeglasses not look that nerd. Do not worry about being weird, try to take advantage of some tricks to enhance your look and show your beauty.
Wearing glasses with your wigs can sometimes be a little confusing and even uncomfortable. You may have a horrible time getting glasses on over the ear tabs. Try to purchase a glasses friendly wig and learn some tips for manipulating wigs to accommodate glasses and find out what works best for you. If you have questions about wearing eyeglasses or sunglasses with wigs, please leave them in the comment section below. If you have tips or tricks for wearing eyeglasses and sunglasses with wigs, please share your knowledge as well. It's never too late to learn.