Is Your Brazilian Hair Really From Brazil
2020-07-06
Best 100% Virgin Brazilian Hair Bundles For Sale!!!
Get 100% Virgin Brazilian Remy High Quality Hair!
Have you ever heard about these attractive ads? If you were a huge fan of human hair products, these descriptions will definitely sound familiar to you. Now the human hair trade is a growing and very lucrative industry. Celebrities have opened up on social media about wearing human hair, revealing just how common human hair products are on the red carpet, and in everyday life. Most of these advertisements claim to sell Brazilian hair, Malaysian hair or Peruvian hair, but do they really come from those countries? Have you ever questioned how that hair was sourced? Let's take you into the unknown side of human hair industry.
The biggest scam in the virgin human hair industry
Human hair industry is a booming and billion dollar industry with many scams. The hair suppliers often buy hair from Asian countries and label them as "Virgin Brazilian", because it is an easier way to sell it. They have different names for the hair. Whenever they exhaust one name they tag on another name. So, at the moment we have Brazilian hair, Peruvian hair, Italian hair and other hair on the market. Customers think it's a new product and so they are going to buy it and try it at least once. Manufacturers loose 15-20 percent of each hair bundle during the wefting process, but they find a way to use even the refused hair. They buy scrap hair, like refused hair and hair lost from shedding, process it with a bunch of chemicals, and then label it with "fancy" names like Brazilian, Peruvian and Italian hair.
Honestly, in the lucrative hair industry, the hair sellers and suppliers tend to conduct advertising by claiming the hair comes from Brazil or Peru, aiming to cater to customers' needs. In fact, exotic hair is a marketing tactic used by "Virgin Hair" suppliers, and a high percentage of hair extensions come out of Asia. If you think about it, what sense does it make that Brazilian women would cut their hair off and send it to another country? In addition, we have never heard of Brazilian women shaving their heads for religious purposes or for profit. It's impossible to source commercial quantities of hair from Brazil to supply the substantial demands of human hair across the globe. These are all fake marketing tactics used to make the hair seem more luxurious. Another reason is that people are inclined to love hair from these countries in terms of their texture, length and color.
Where does most of these hair really come from?
India: Widely considered to be one of the most ethical places to source hair. Hindu temples are a crucial part of the industry. India is the only place in the world that has commercial quantities of hair. Every year millions of devout followers travel to temples. As a ritual of purification, Hindu pilgrims will donate their hair to the temple. It's a symbol of religious devotion and surrender of the ego. And this has turned into an extraordinary economic resource. The temples start to doing contracts with hair companies. There are some temples around the world that shave hair like India. Some of these countries are Indonesia, Bangladesh, etc. But hair volumes from these countries are small.
Myanmar: The country is a major source of human hair, feeding the global demand for wigs, weaves and hair extensions. Myanmar hair is the softest, most sought-after hair in Asia. Figures suggest the global trade in human hair was worth $87.4 million in 2016, with Myanmar the third largest exporter after India and Tunisia. In Myanmar, hair can be considered sacred: The gilded Shwedagon Pagoda, one of the Buddhist country's holiest sites, is believed to be built on strands of Buddha's hair.
Vietnam: Here in the countryside, having long hair is still an important sign of femininity. Many women want to sell their hair to make ends meet. For many, it's a much-needed infusion of cash, whether to save for a house, repay loans or simply have some pocket money. Besides, during the Buddhist new year celebration, many girls choose to cut off their hair and become nuns for 10 days, which is regarded as an act of selflessness and dedication to Buddhist meditation.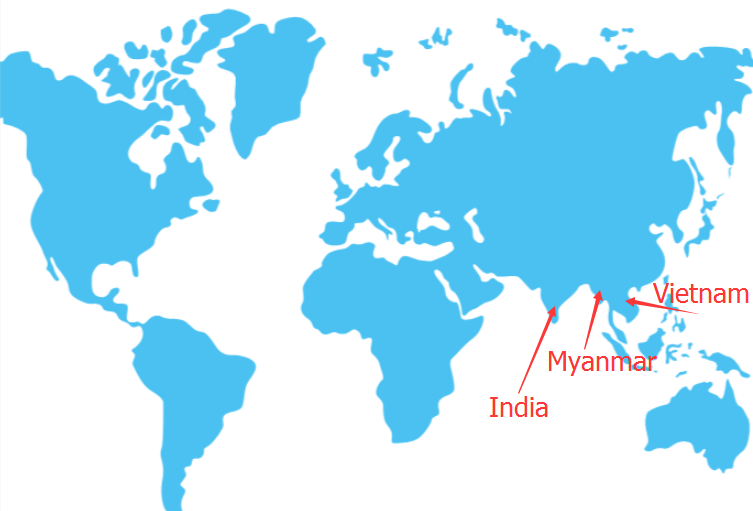 Why is there such scam in human hair industry?
As the development of human air market, human hair gains more popularity among people. Faced with so many choice of hair types, colors and lengths, people may wonder " What will be the best human hair?". Nowadays, there are several options for your choice, including Brazilian hair, Peruvian hair, Malaysian hair and so on. Why would people prefer the hair from these countries? That's determined by the quality of the hair from these countries, like the texture, color and length. That's also the reason why hair suppliers or sellers would claim that their hair on hand come from these countries. They use this trick to attract more customers and increase sales even if it's a false advertisement. However, for many consumers, they don't know about the truth and they may blindly believe what the hair sellers' story about the origin of those hair.
Hair from Brazil, Peru or Malaysia is so popular for its hair quality, so it's necessary for us to know more about their common characteristics:
Brazilian hair. It is the most popular texture on the market right now. This hair is characterized with softness, durability and density (thickness). It have different lengths and natural colors. It is available in wavy, straight or curly textures. This hair holds curls very well and tends to hold curls longer. This type of hair is usually soft and smooth.
Peruvian hair. It grows naturally straight, wavy or very curly. It blends well with normal African-American hair textures. It comes in natural colors of dark or light brown. This hair looks naturally despite but the fact it's lightweight. That means you can have over 4 bundles of hair but you still feel very lightweight. It is extremely manageable even in times when hair isn't maintained properly. Peruvian hair is great for sleek straight styles as well as short & edgy styles.
Malaysian hair. Malaysian hair comes natural black and straight. The hair dries straight with a slight wave and after a few washes looks even more natural. The hair has a extremely luxurious feel to it and has a great natural shine. Curls won't loosen or drop with time but maintain their form for the entire day. If you want volume and thickness, Malaysian hair is your best choice.
What should we bear in mind?
Now, despite lots of false labeling about the source of hair, that is not to say there are no authentic exotic hair like Brazilian hair on the market from their stated place of origin. But they are extremely rare and could not possibly support the enormous commercial demand. In actuality, the majority of hair labeled virgin Brazilian hair may be curly Indian hair that has been steamed. It's fairly common for hair suppliers who come from Brazil to buy Indian hair wholesale, and then take it back to their country to mark up and sell to women across the world.
You can hardly tell the difference between India hair and Brazilian hair by just looking at the pictures or identify them from the surface. After couple weeks of use, you will definitely notice that they become different. The differences will show up till you water, heat or air drying it. Therefore, when you're shopping hair, the origin of the hair may be one of the elements you will consider. But do keep in mind that what the hair sellers advertise is probably deceptive, and this is just a marketing trick to boost sales. The lack of regulation in the hair industry around the world makes it harder to guarantee what you're getting. Most of the time, those exotic labels usually refer to a particular style, texture or pattern of virgin hair.