Lifesaver for Wig Wearers - Dry Shampoo
2020-07-22
You can have so much fun in wearing wigs. From human hair wigs to synthetic wigs, you've got so many options in colors and styles. But sometimes you just don't want to spend time washing your wig, drying it out, styling it and all that staff. Then how should you deal with the excess oil on wigs after several wearing? Go for the dry shampoo, which is a life-saver when you are in a hurry to go outside without time to wash and style your wig.
What is dry shampoo?
Dry shampoo has gained popularity in the recent years. Essentially it's a powder or fast-drying spray that provides a water-free option for cleansing your hair. It works for both your bio hair and wigs. Then how does dry shampoo work? Well, dry shampoo works simply: the alcohol or starch in the product soaks up the excess oil and grease in your hair, giving it a cleaner, fresher appearance.
Of course, you could use the oil-stripping shampoo and wash the wig to get rid of excess oil. But in some cases, dry shampoo is a more preferable option. For example, if you're traveling and a shower isn't an option, or if you're hospitalized and unable to bathe, this type of product can help maintain your hair and scalp quickly.
Although dry shampoo is a quick fix for your greasy wig, it's only a temporary method. The wig hair needs to be washed and rinsed intermittently to keep it clean. (Know more about how to wash human hair and synthetic wigs.) The wig collects chemicals and pollutants both from the air and from cosmetic care products. Dry shampoo can freshen the hair by removing oils, but the the cleansing is only minimal.
How to use dry shampoo?
A lot of you may already know what dry shampoo is. However. A lot of times people actually use it incorrectly. How to use dry shampoo correctly? Dry shampoo is amazing for bad hair days or greasy hair days but needs to be used the right way! So that you can get fresh, clean looking, bouncy hair! It not only absorbs oil but adds body and texture to hair!
Start out with brushing your greasy wig hair. This will distribute oils that are saturated at the top all the way to the bottom. Shake the dry shampoo first and then create a horizontal part above the ear. Then go up about one inch at a time and spray all the way from one ear up the center part and back down the other side. Generously spray right at that horizontal part. After that, wait for the dry shampoo to completely dry. Once it does, brush it through from roots to ends. This help the dry shampoo get into the root.
After you are done with brushing, you'll see you have much fresher and cleaner and more voluminous hair. Now you can use the curling iron to style your wig. When you finish, add a little bit dry shampoo one more time at the root. Create a horizontal part right about your eyebrow arch on both sides. Spray the dry shampoo right into that part. Let it dry and work your fingertips into where you spray that dry shampoo. This will create even more lift and texture in that area. These are secret tips for correctly using dry shampoo.
How to select dry shampoo?
If you've used dry shampoo before, then you know it helps absorb excess oil or buildup of wigs and give the wig volume for easy styling. Dry shampoos are convenient for when you are in a pinch, so they're definitely a must-have for wig wearers. But there are many different types of dry shampoo in the market. How can you select the right dry shampoo for your wig care. Well, here are some tips that may be helpful.
-No residue. A good dry shampoo should keep your wig fresh and clean. If the dry shampoo you are using will gunky buildup or white residue on your hair, you should drop it and buy a new dry shampoo. Good quality dry shampoo should absorb completely and quickly into your hair without white residue.
-No Stickiness. Always remember that dry shampoo is to help you reduce grease on your wig, not to make your hair sticky. Touch your hair after using your dry shampoo. If you feel it's sticky, you're probably using the wrong product. Try some other dry shampoo brand!
-Appealing scent. The scented variants in dry shampoo can provide freshness and fragrance. So before you choose a dry shampoo, try to smell the fragrance first in case you don't like the smell. Everyone responds to fragrances differently. If you don't enjoy the scent, spraying the dry shampoo can only make you feel uncomfortable a whole day.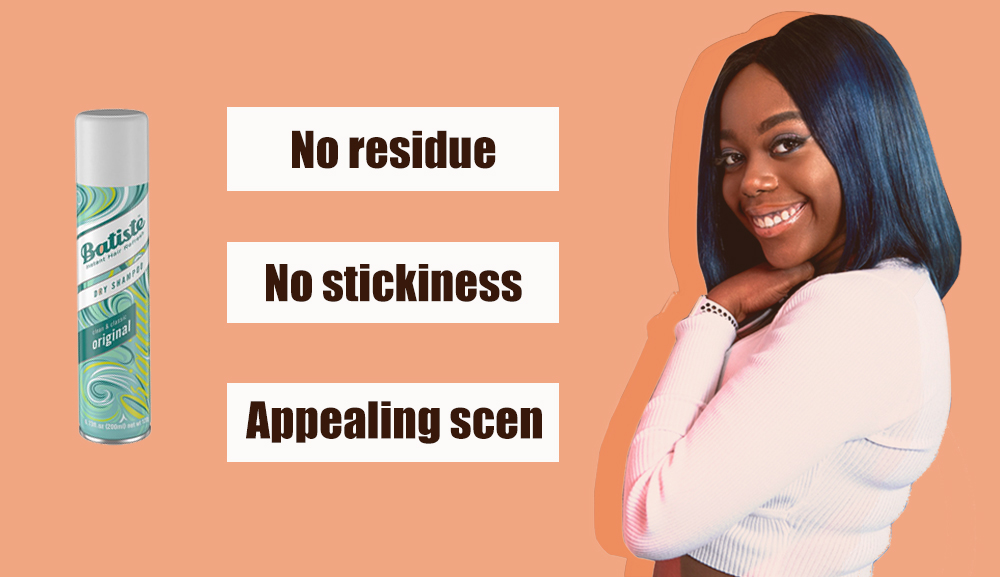 Dry shampoo is not only de-grease the hair but adds body and texture. It's convenient and helps save time. However, it's not meant to be used every day. Dry shampoo is powdery and may dry out your hair, making it brittle or fragile. So don't forget to wash your wigs from time to time. Are you using the dry shampoo and have you got any tips about using it? Share with us in the comments to enlighten more wig wearers.