Seamless Wig Bun Is Possible
2020-07-16
"You can never wear your wig in a high bun." You may hear this a lot. Because if you slick up all your hair, people can easily tell that you're wearing a wig. The wig may keep moving and peeling in the back. Therefore, lots of people will not try high bun hairstyle in a wig so that they could maintain a more natural look. Though it's hard to wear a wig in a high bun, it is possible only you know how to create a seamless hairline in the forehead and in the back. Keep reading to obtain some guidelines you need to follow to accomplish an updo in a wig.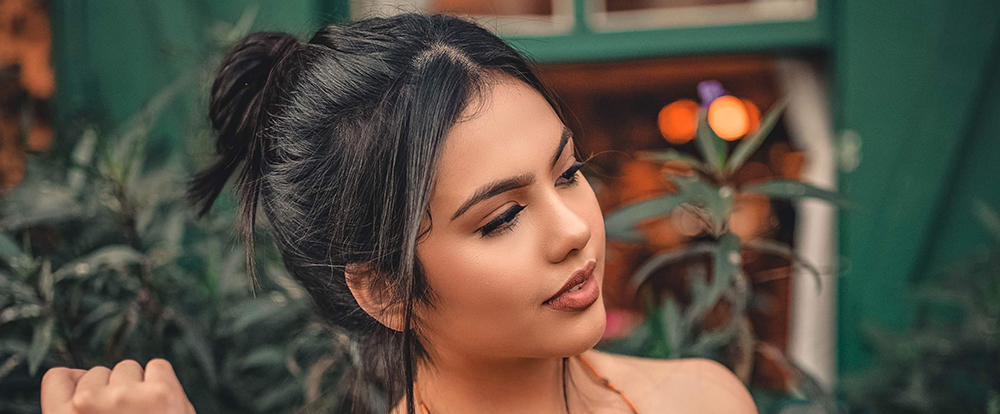 1.Choose a 360 lace wig. How to put your wig into a high bun? Get a 360 wig. It dramatically helps increase the versatility of your lace wigs. With 360 lace wig, you don't need to worry about your edges showing or your tracks being exposed. So you can do high ponytails, up-dos or whatever hairstyles.
2.Suitable wig size. To achieve a slicked look, the wig has to fit your head perfectly. If you have a small head, bunch it up right behind the ear and sew the pieces together to fit your head size.
3.Remove combs and straps. Cut out the combs in the back in order for the lace to leave flat. Put the wig on and you'll see the portion that needs to cut off. Cut off the adjustable straps too as they will expose your real hairline easily. After that, the lace will look a lot better and blend much better onto your skin once you lay it on.
4.Thin out the hairline. Many wigs are pre-plucked but the transition from the pre-plucked hair to the more dense hair is not that smooth. So you can continue to pluck the hair behind the hairline to have a more smoother transition. If it's a bit too thick, go ahead and thin it out. Putting the wig on a mannequin head will help when you tweeze the hairline both in the front and back. Just make it look more like a real human hairline. After thinning it out, the front and back hairline will look much realistic.
5.Cut out excess hair and lace. Every single wig will come with excess lace for you to customize and fit perfectly to your head shape. Cut the excess lace off and leave about 1/4 of an inch of lace away from the hairline. Also there's always extra hair around your ear. So cut the lace and hair around your ears. Make sure the perimeter of the wig match your natural hairline as much as possible. That's what's going to make your wig look much more natural.
6.Cover the knots. You could choose to bleach the knots. But if you do not have enough time to do the bleaching process every single time for every single wig, you can also add some foundation, seal it with spritz or got2be glue spray and blow it dry. This would look very natural also and quick and easy to do.
7.Flatten hair down. Prep your hair to put under the wig cap. You can braid your hair to make it as flat as possible. Then take some styling gel to flatten your hair down in the front and make sure all the flyaways are tucked down and out of the way. Don't use intense hair gel all over your hair because it will be a hassle to wash out.
8.Apply hair gel. Take some rubbing alcohol and clean up your hairline to make sure there is no excess oil or makeup that would interfere with the gel. Use whatever wig glue you have and apply it all around the perimeter of your head. Apply the wig glue with a tool, like a plastic spoon or knife. It helps not to use your fingers because it gets super sticky and messy and also the oils from your fingertips start to degrade the gel. If you put too much gel, it might not dry clear and become white and lumpy.
9.Put on the wig. When the hair gel is tacky, put the wig on top of the gel. Make sure you have everything measured perfectly before you put on the wig. Start from one side of your face and then stick the wig down and go along until the other side. You could use a rat tail comb or brush to push the lace onto the tacky gel.
10.Handle with the back hairline. Apply the hair gel all around the perimeter. Blow dry it a little bit until it's tacky enough and then lay the wig back down. Makes sure your head is down and use circular motion while you're laying your hair down. Get some baby hairs out to cover the lace a little bit and make it look as natural as possible. Blow dry it so that everything can melt in the way you want it. Go back to check what parts did not lay down and glue it down. you may need to do this many times until the whole back is laid down perfectly.
11.Gel melting process. Take a scarf to wrap around their hairline to put some pressure on and make sure everything dries flat. Let it sit for about 10 to 20 minutes. Clean your hairline up with a little bit of water to remove excess hair gel. If you do this method you can actually wear the wig for a couple of days straight. With this gel method, you can literally sleep in it and wake up and wear it like it's your hair.
12.Tie the wig up into a high bun. After the wig is secured down, place some styling foam all over the wig hair and brush the hair. That way it lays more flat and looks more natural when you pull it up in the ponytail to place inside the bun. Hold the lace down when you're brushing or combing the hair so that non of the hair or lace will lift up. Brush it up into a high ponytail first and leave some baby hairs. Then begin to place your hair in a bun whichever type of bun you like. Use bobby pins to secure the bun down and in place.
The biggest difficult of achieving a high wig bun is to create seamless wig hairline both in the front and back. Following proper steps as mentioned above, it is totally possible for you wear a wig in high bun. You can have a sleek or messy bun. Choose whatever style you like. Trust me! You will be satisfied with how it turned out. How do you do a high wig bun? Comment to share your thoughts.