Tips for Heat-Friendly Wigs
2020-07-23
When you are browsing through all kinds of collections of wigs, you probably notice that many brand or manufactures claim that their wigs are heat-friendly synthetic wigs. Heat friendly indeed offers the styling versatility you want from a human hair piece at a fraction of the cost. But it also requires extra care and maintenance to lengthen the longevity of heat friendly synthetic wigs. Find more information about heat friendly synthetic styles in this article.
What are heat-friendly wigs?
Do you know what is heat-friendly synthetic wig? Does it mean you can use any type of thermal styling tool, at any temperature, for as long as you want and the wig's fibers won't be damaged? Of course not. Heat friendly synthetic fiber is a sturdier fiber that can withstand heat up to 350 degrees. Exceeding the highest the temperature, the heat-friendly fiber will still melt. And the maximum temperature that synthetic fiber could withstand may differ from brands and manufacturers. You'd better ask the wig sellers to ensure the related heat styling temperature or conduct a test before you style it with heat appliances.
Why are you buying heat-friendly wigs?
A lot of times you may don't have a choice. You just love the style but it's made from heat friendly fibers. You go ahead and make the investment because you love the style. It makes no difference to you sometimes whether it's heat-friendly or not. You just love the style and that's why you are buying it.
Number two reason for buying heat friendly fiber is the versatility of it. You can restyle the heat friendly wig. You can make it straight or curly. There is a variety of things that you can do. While non-heat friendly synthetic wigs won't go back to its original condition after you heat style it. You cannot get back the smooth and sleek texture that you had originally right out of the box.
People like heat friendly fibers because it feels good. It's a very velvety feeling and a beautiful sensual kind of experience, especially if you don't have hair or if you've never had much. So these are three top reasons why people buy heat friendly fibers.
How to extend the life of heat-friendly wigs?
One of the biggest concerns with a heat-friendly fiber wig is that the life of that wig is often shorter than that of a non heat friendly synthetic wig. That's because it's prone to tangling. It doesn't play well with friction. It doesn't hold up as well as a non-heat friendly fiber might under the same conditions and maintenance. Heat-resistant wig is a investment and it's more expensive than regular wigs. Therefore, you have to take special care of these fibers in order to make it look good.
A lot of times they will come to you from the factory with a generous portion of silicon on the fibers, and that will take a little bit of time to wear off. So you do have some protection against the friction immediately right out of the box. To make heat friendly wigs last longer, there are certain things you can do to help extend the life of the style.
--Be gentle and no brushing
Actually it's a rule with all synthetic styles. Be super gentle with the wig. Try to be very conscious of limiting the friction on your style. for instance, finger fluff and style as opposed to brushing it whenever you can. Watch how the fibers are dragging against the clothing. If you have longer heat friendly style, consider putting it up or making a bun out of it. And that will limit and halt any friction wear and tear on that particular part of the wig. So being creative with your styling to limit the friction on your wig.
--Limit washing as much as possible
You don't have to wash this wig every other time you wear it, because washing, conditioning and drying your heat friendly fiber style is going to create wear and tear. You can't avoid the friction on the wig. So go as long as you possibly can on the wig before you wash it. After the first time you wash it, the wig will look a little bit different and that's partially because you are washing off some of the silicon. It may lose some of the luster and sheen that it has before you wash it.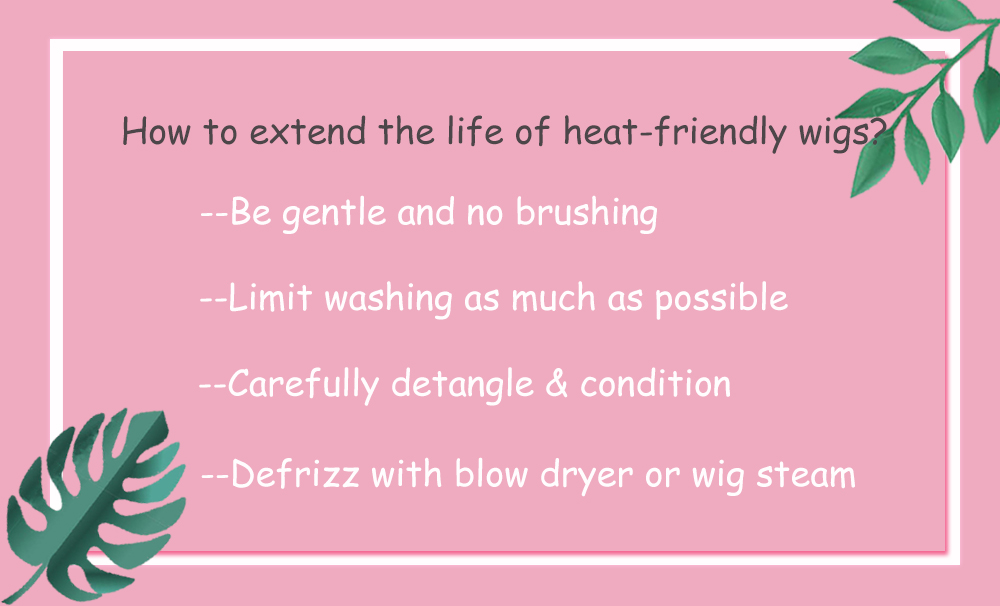 --Carefully detangle & condition
Every time you wear the heat friendly style, carefully detangle it after wear even if you wear if for only a couple of hours. Use wide tooth comb only for daily styling and maintenance. And get yourself some mild silicon products on hand, like a conditioning spray or a revitalizing spray. These products will help release tangles when you are working on them, but it generally protects the fibers as well.
You can also get some pure silicon spray in your fingers and work into the ends of the fibers after you detangle the hair. But do not use silicon every single time you wear it. If you did, you'll have to wash it more often as it will form some gummy there on your hair. Here is another huge tip: put a generously amount of silicon on the wig prior to washing. Once you apply the silicon and then you wash and condition it as normal, it kind of retains some of pliability and youthful look that you get when you first bring it out of the box. You'll be able to notice the result right away.
--Defrizz with blow dryer or wig steam
Once your wig is snarl and frizzy, the heat friendly fiber is kind of gummy, it it doesn't move exactly the same as it used to. There are ways to revive it. If you do these methods on a regular basis, you can really extend the full life of the fibers. Always remember that if you use heat tools to style your heat-friendly synthetic wigs, be sure to keep heat on low setting and use a thermal pre-treat spray.
You could spritz the wig with conditioner and use a hairdryer to smooth the worn fiber. If you think the hair dryer will damage the fiber, you could choose a wig steamer. Lay the wig on its back because most damage is underneath on the nape. So you could just concentrate and target you steam on the areas that are snarled. Keep steaming until the fibers are smooth, have better color definition and better movement.
There are going to be some general rules when caring and maintaining for your heat friendly synthetic fiber wig. Follow the tips mentioned above to make the most use out of your heat friendly synthetic wigs. What's your experience with heat friendly wigs? Or do you have any other advices?