Trendy Hair Color Ideas For 2020
2020-07-20
Speaking of 2020, we always talk about new beginnings and fresh starts. Have you ever thought about your hair color? Thinking of switching things up this year? It just might be the perfect time to try out a new shade for you. New year, new shade! But before you make the hair color change, have a look at the hottest hair colors for 2020! Take notes and get inspired for your new hair color.
Smoky Violet
One of the most popular trends in the past is coming back in a big way this year. You'll be seeing a lot of smoky violet tones. The smoky violet color is dark and mysterious on brunette locks, or nymph-like on blonde hair. Depending on the look you're looking for, you may want more purple than gray. The color will show up best on lighter-toned hair. Make sure there are no yellow tones in your hair; otherwise you'll lose the look of these pastel colors. Or you could do a weekly mask to your hair to neutralize the brassy tones.
Golden Shade
There is another new, delicious style to try in 2020. Trends like turmeric latte shades are now hitting high street. Summer blondes get warmer with golds and apricots being more predominant. These rich golden shades also give the wearer a instant glow and health to the skin, which of course is always trending. This helps to enhance your features, makes you look well rested, plus adds color to your cheeks. This color works best with those of you who have naturally warm and neutral skin tones.
Burgundy
Beautiful burgundy and win-colored highlights are one of the options for your hair color in 2020. These darker shades work just as well in colder months. Colors that imitate nature like rust, rich browns and reds look beautiful from fall to winter. One of the best things about burgundy shades is how well they flatter all kinds of skin tones. If you pale skin is seemingly porcelain, this shade will be striking and dramatic. Whereas on medium and dark skin stones, the color will seem subtle.
Scarlet Red
You'll be seeing more fiery, flaming scarlet reds this year. If you've always flirted with the idea of going red, 2020 may be the perfect time to try it out. But be prepared for a little extra maintenance. When red fades, the changes are more noticeable than blonde and brunette colors. You'll have to be touched up often, which is also why we suggest you getting highlights. It blends better as your hair grows out. Try not to let your new hair grow past an inch. Once it goes beyond that, it can start to look uneven.
Tangerine Orange
The biggest incoming shades for 2020 are from tangerine, mandarin orange, burnt peach and golden red tones. Citrus shades are taking center stage on the catwalk, with these tones working in multiple ways. These citrus hair colors are going to be used as highlights, balayage, all-over application, and even dip-dyes.
Spicy Cinnamon
Cinnamon will be a favorite hair color in the new year. And the color is especially perfect for fall. You can keep any light strands, like your post-summer ombre blonde balayage, then blend red-bronze tones throughout. The result is a full-bodied shade that's warm, dimensional and reflective. You have cinnamon in your cupboard, so it's easy to visualize that warm golden-brown color. But like scarlet, cinnamon is also prone to fading. A color-protective mask can help prolong the remaining time of your hair color.
Silver Blonde
If you are not ready for going completely silver, this shade of blonde with silver undertones is going to be popular in the new year. Silver blonde certainly has its moment in 2020 although it's a hard-to-maintain shade. To ensure a glossy and strong hair, be sure to use purple shampoo to keep your hair color bright and healthy.
Contrasting Colors
If your look is feeling stale, maybe it's time to go bold this year. Many people will be opting for contrasting colors in 2020. If you are looking to achieve this look, you want the contrast color to puddle in your hair. It won't be straight lines like traditional highlights, it's going to be more jagged, but it looks stunning.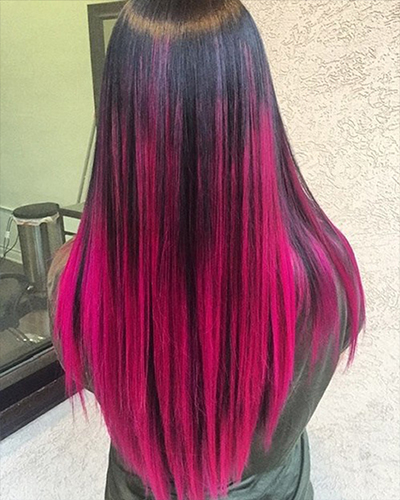 Dip Dye Ends
If contrasting colors and full-head bright hair colors are too much for you, think about dip dye ends. Dip dye ends occupies a position in the 2020 hair color trends. It's the perfect way to add some bright color to your look without having to dye your entire head. This style is perfect for those who just enter into the world of dye hair. Starting from the ends to full-body of the hair gives you time to accept the hair color change.
Peekaboo Hair Colors
This year, peekaboo hair colors are going to dominate. People expect styles to call for a "rich chocolate brown on top", but underneath you'll find a multitude of vibrant colors popping out depending on how you move or style your hair. These vibrant colors used to be just an add-on color. Requests for all-over bright colors are on the increase. If you are loving the brighter trend of 2020, but don't want to part with your current color, adding some peekaboo highlights gets you the best of both worlds.
Pale Tone Hair Colors
If you want to experiment with color, but aren't quite sold on vivid hues. Colors like rose, blue and all pale tone colors are great. They always work well on any style from highlights to contrasts and even your entire head. For the spring in 2020, colors that are fun and playful are always the way to go. The so-called "dusty rose" shade is an especially fabulous pale tone to try in the new year. But pale tones will require a quite a bit of upkeep. With creative colors like this, it usually needs to be touched up often.
Classic Hair Colors
As great as these bold and beautiful colorful trends are, this year you may be going for less of a statement, and more of a timeless look. The classics are always great any time of the year: blondes, browns, brunettes. You can't go wrong with the classics. Still, there are a few things to keep in mind, especially if you're going from dark to light, one of them being your brows. Currently the trend for brows is to be slightly darker and bolder than the rest of the hair.
With the literal rainbow of stunning hair colors on trend for 2020, we're expected to see everyone flip their hair back in whatever shade they love. No matter what hair shade you choose, what matters is wearing the color and style you like without caring too much what other people say. You have total freedom to express your attitude via your hairstyles. What's your new hair color for 2020? Comment below to share with us you hair color ideas and where did you get the inspiration.